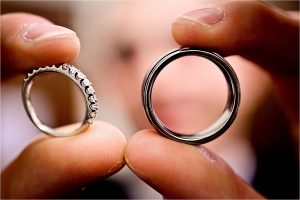 The Hows and Whys of Engagement and Wedding Rings
Rings given before marriage (i.e., engagement rings) and during the wedding ceremony are common in many cultures. These symbols demonstrate a person's intent and commitment (and belonging) to another. Rings have a long history as they relate to love or marriage. In fact, hieroglyphics show Egyptian brides wearing wedding rings almost 5,000 years ago. The circle is a symbol of eternity, and when spouses exchanged rings, they signified their eternal love.
How we decorate these circles has differed greatly over time and between cultures, however. Diamonds may still be a girl's best friend, especially In western culture, but prior to the 1940's it was not common to give a diamond engagement ring to a woman when proposing marriage. And in other cultures, rubies, emeralds, sapphires, gold, silver, platinum and other combinations of precious, durable stones and materials are popular. Styles have changed over the years – sometimes simple and sometimes elaborate, but the ring as a reminder of commitment is timeless.
Where we wear these symbols of love, commitment (and belonging) can also vary based on culture and tradition. In Chile and many other countries, engagement or wedding rings are worn on the right hand versus the left. Toe rings are still common in India, though couples also now commonly wear engagement and wedding rings on their hands. In many cultures and for centuries, men and women give rings during their engagement as well as during the wedding ceremony.
For more about wedding ceremonies and other traditions, services to officiate or destination or intimate wedding packages, feel free to call or text us at 941.356.3492.