You'll Need a Florida Marriage License
You will need to get your Florida Marriage License to make the marriage leg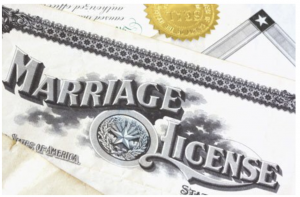 al. A Florida notary public or ordained minister will witness your marriage and sign the license before it is legally recorded and then a certified copy of the marriage certificate is mailed to you after the wedding.
How to apply
You and your partner can apply in person at any Florida Clerk of Court's office OR you can hire an approved Florida Marriage License Coordinator to apply for you.
Many couples choose to apply in person as the cost is $86-$93.50 (depending on county and payment method). If you cannot or don't want to the hassle of applying in person, and your wedding is more than 30 days out, contact us. The cost is $190-$240 (depending on available lead time).
What do I need to apply for a Florida Marriage License?
To be unmarried and at least 18 years old.
Valid, government-issued photo ID (i.e. Driver's License, Passport, state-issued ID card, and military ID.)
NOTE: Your state residency is determined by the address on your photo ID.
Date of Birth (No documentation needed, just know the date.)
Social Security Number (No card needed, just know the number.)
Date your previous marriage ended – either by death, annulment or divorce (No copies needed, just know the date.)
Note: No blood test is required.
When and Where You Can Use Your License
If either of you is a Florida Resident, there is a 3-day waiting period from the issue date of the license unless you have completed a Premarital Counseling Course;
If you are from out-of-state or out of the US, you can marry the day the same day you apply.
May be used anywhere in the State of Florida;
Must be used within 60 day of issue date; and
Must be returned to the Clerk of Court within 10 days after the wedding by you or your wedding officiant.
After the Wedding – Marriage Name Change
After the wedding, you'll receive a marriage certificate in the mail (2-3 weeks after the wedding) which will serve as your official legal name
The first place to update your name after your marriage is with theSocial Security Administration (SSA). You do this by submitting Form SS-5, your marriage certificate, and proof of your identity and citizenship.
You can then proceed to change your name on your driver's license, passport, and other state and federal documents.
Note, each state is different. Some have specific provisions for anyone other than a woman to take a husband's last name. In these situations, couples will often have to go through a court-ordered name change process.
We've been writing and officiating wedding ceremonies in Florida since 2004. We also serve as a Clerk of Court approved Marriage License by Mail coordinator. Visit us at https://sayidosuncoast.com, or call/text 941.356.3492.